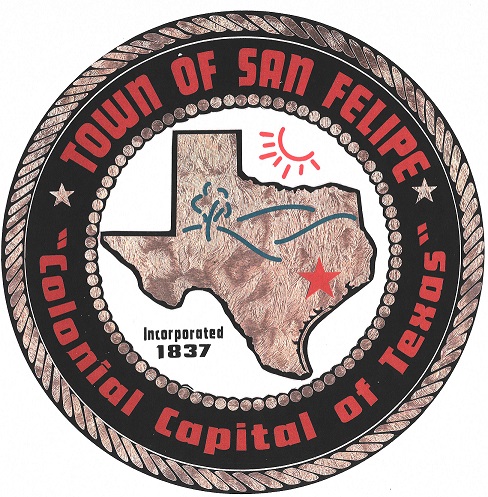 TOWN OF SAN FELIPE OFFICE CLOSING
THE TOWN OF SAN FELIPE TOWN/OFFICE AND MUNICIPAL COURT
WILL CLOSE AT 11:00 A.M. ON FRIDAY, APRIL 7, 2023
TO OBSERVE THE FOLLOWING HOLIDAY:
GOOD FRIDAY
THE OFFICE WILL RESUME BUSINESS ON MONDAY, APRIL 10, 2023 AT 8 A.M.
BAGS WILL BE AVAILABLE AT THE EXXON STATION (OLD KNOW FUEL STOP) AT THE FRONT ENTRANCE TO THE TOWN.
INFORMATION REGARDING THE MUNICIPAL COURT PLEASE VISIT THE COURT TAB ABOVE.
HAVE A SAFE HOLIDAY.
FROM
THE TOWN OF SAN FELIPE
T ****************************************************************************
TOWN OF SAN FELIPE BURN BAN
EMERGENCY ORDER
PROHIBITING OF OUTDOOR BURNING & DISCHARGING OF FIREWORKS OF ANY KIND
San Felipe, Austin County, Texas issued June 14, 2022.
RESCINDED September 13, 2022 per the Town Council
******************************************
NOTICE FOR GARBAGE COLLECTION
The Town of San Felipe is respectfully requesting that citizens utilize San Felipe trash bags for weekly garbage collection. No other bags will be accepted/collected. Bags can be purchased at the town office during business hours Monday - Friday from 8 a.m. to 5 p.m. and at the Exxon station (old Knox Fuel Stop) 24 hours 7 days a week. We appreciate your cooperation in advance.
Respectfully,
Town of San Felipe
********************************
PUBLIC NOTICE
TEXAS COMMUNITY DEVELOPMENT BLOCK GRANT-MITIGATION (CDBG-MIT)
The Town of San Felipe will submit a CDBG-MIT application for up to $3,511,000 for citywide street and drainage improvements related to declared disaster events to the General Land Office (GLO) CDBG-MIT Program. Applications will be available for review on and after 10/7/2020 at the Town Hall at 927 Sixth Street, San Felipe, TX 77473 during regular business hours.
AVISO PUBLICO
EL PUEBLO DE SAN FELIPE
TEXAS COMMUNITY DEVELOPMENT BLOCK GRANT-MITIGATION (CDBG-MIT)
El pueblo de San Felipe presentara una solicitud CDBG-MIT para un maximo $3,511,000 para actividades elegibles mejoramientos a los sistemas de drenaje y las carreteras y calles localizados en toda la ciudad relacionadas con eventos de desastre declarados a la Oficina General de Terreno (GLO) CDBG-MIT Programa. Las solicitudes estaran disponibles para su revision el 10/7/2020 y despues en la Oficina del Alcalde en 927 Sixth Street, San Felipe, TX 77473 durante el horario comercial normal.
************************************************
*****************************************
PLEASE WEAR YOUR MASKS.
THANK YOU.
****************************************************
(COVID-19) Update
Please click on the link below to review the case counts by counties, testing locations and additional information concerning the COVID-19.
https://dshs.texas.gov/coronavirus
This information was gathered from the Texas Department of State Health Service website.
**************************************************************************
HOW TO PREVENT CORONAVIRUSES
FROM HEALTHLINE
Wash your hands frequently for at least 20 seconds at a time with warm water and soap.
Don't touch your face, eyes, nose, and mouth when your hands are dirty.
Don't go out if you're feeling sick or have any cold or flu symptoms.
Stay at least 6 feet away from anyone who is coughing or sneezing.
Cover your mouth with the inside of your elbow whenever you sneeze or cough.
Throw away any tissues you use right away.
Clean any objects you touch a lot. Use disinfectants on objects like phones, computers, utensils, dishware and doorknobs.
If you are experiencing any flu like symptoms, please contact your health care provider immediately.
**********************
Dear Residents of San Felipe, Texas:
The lock to the lower pasture gate has been changed. Please stop by the Town Hall which is located at 967 6th Street between the hours of 8 a.m. to 5 p.m. Monday through Friday to purchase a new key. Only one key per household will be issued to the authorized San Felipe resident. Please check the town's website for office hours at townofsanfelipe.net. The hours are also posted on the front entrance window to the town office building.
The following requirements will apply to expedite the process:
1. The authorized San Felipe resident will be required to complete a new application.
2. Present a copy of a driver's license, United States passport or recognized photo identification from the authorized key holder and any additional authorized resident(s) within the household. (Lower Pasture Ordinance No.2005-12, Section 1).
3. Pay the following user fees: $50.00 for each key issued and $25.00 for each key issued to a resident who is sixty-five (65) years of age or older. (Lower Pasture Ordinance No.2005-12, Section 3).
If all three of the above requirements are not meet your application will be placed on hold until further review by the Mayor or the town council.
Your cooperation is greatly appreciated concerning this matter.
Respectfully,
Bobby Byars, Mayor
*******************************
*************************************************

TCEQ Proposed Permit No. 2388 - Page One Page Two
E 20SsESE
[ Home ] [ Stephen F. Austin ] [ Demographics ] [ San Felipe History ] [ Police Dept. ] [ Municipal Court ] [ Town Events ]