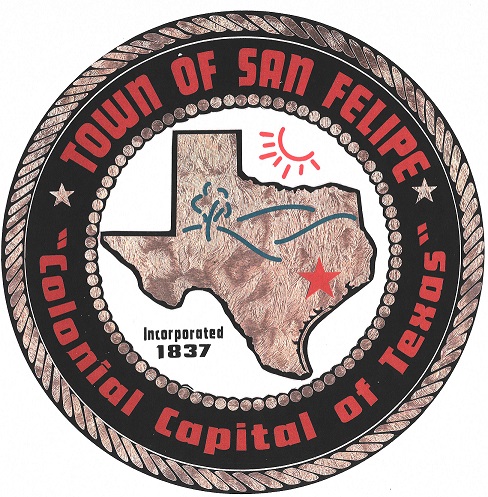 MASKS ARE MANDATORY FOR ENTRANCE TO THE BUILDING. ONLY ONE PERSON WILL BE PERMITTED IN THE FOYER.
ES OBLIGATORIO USAR MASCARILLA PARA ENTRAR AL EDIFICIO. SOLO UNA PERSONA SERA PERMITIDA EN EL VESTIBULO.
(979) 885-7035
Permits, Forms & Election Information Town Ordinance Index/Fiscal Year Audit Reports
2020-2021 Fiscal Year Budget Index of City Council Minutes

Town Officials

- Bobby Byars Term 2021-2023

-Larry Gentry Term 2021-2023

- Sandra "Sandy" Brooks Term 2021-2023

- Michael Elliot Term 2020-2022

- Alfred Hall Term 2020-2022

-Brenda Penrice Newsome Term 2020-2022

- Sue Foley
Police Department

-D. Randle

W. Hall

Fire Department

- Johnny Hall
Public Works & Animal Control

- Max Zapalac

- Douglas Worthy - Animal Control for San Felipe
Municipal Court

-Honorable Robert Bradshaw

-Honorable Bernice Burger

-Tangerlia Taylor- Felton

- Sue Foley -
OFFICE HOURS
Monday through Friday 8 a.m. to 5 p.m.
Lunch Hours: 12 p.m. to 1 p.m. or a time of return will be posted for the public.
During office closing a notice will be posted informing the public of the next business day of service.
Bags will not be available for purchase during office closing. Please reference town services below for additional location of bag purchase.
Thank you from the Town of San Felipe.
Town Services/Locations for bag purchases
Household garbage collection every Wednesday starting at 8 a.m. Town bags can be purchased at the 927 Sixth Street Town Hall during office hours. The Town bags can also be purchased at 5168 NE I-10 Frontage Rd. Park Place Travel Plaza (old Knox Fuel Stop) 7 days a week/24 hours a day. Costs of bags $15.00 per roll with 50 bags on a roll. However, fees may apply if you use your debit or credit card.
Cleanup day for Town of San Felipe Residents, Saturday, October (date pending), 2021 from 7:30 a.m. to 4:00 p.m. at the town maintenance barn area located at 927 Sixth Street. No lumber, brush, tires, batteries and old lube/oil will be permitted. Please bring a valid identification with you for proof of being a San Felipe resident. Please check the Town events tab for more information or call the Town Office at 979-885-7035. PLEASE WEAR YOUR MASKS. Thank you.
Telephone Numbers
Town Hall (non emergency) - 979-885-7035
Police Contact - 979-885-2888 (office) or 979-398-0689 (Cell)
Town Mailing Address: P.O. Box 129 San Felipe, Texas 77473
Town Physical Address: 927 Sixth Street San Felipe, Texas 77473

             - 911(Emergency Only)
- 911 (Emergency only) or 979-865-3111 (non emergency)
[ Home ] [ Stephen F. Austin ] [ Demographics ] [ San Felipe History ] [ Police Dept. ] [ Municipal Court ] [ Town Events ]